A visit to the Panorama
As soon as there is any news on the possibilities for viewing the Panorama and/or a new location for it, I will announce it in this section.
Why this Panorama ?
A destructive process that has affected the Flower Bulb District since the nineteen - fifties has caused the disappearance of many farms, flower bulb sheds, buildings, houses, windmills, etc. that were characteristic to the district. Also large tracts of land formerly used for flower bulb cultivation have been sacrificed to the expansion of the towns and villages in the district.
A growing group of people, including myself, who are increasingly concerned as they witness this process unfold, strongly believe that one ought to treat one's cultural heritage with care and respect, and we should make a concerted effort to stop the process and conserve what is still there.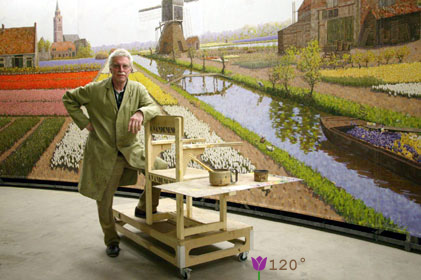 One way to achieve this is to try opening the eyes of the policy makers, who are responsible for the systematic destruction, to the beauty, the uniqueness, and the cultural historical value of the district. The painting of the Panorama of the Flower Bulb District of the nineteen - fifties was born from this awareness.
On 22 March, 1997 I found myself setting the first brushstroke on the first section of my Panorama which shows up to four objects from each of the villages that are situated on the dune side: Wassenaar, Katwijk, Rijnsburg, Voorhout, Noordwijk, Noordwijkerhout, De Zilk, Vogelenzang and Heemstede, as they looked at the time of preparing the design.
The second half, which depicts the villages situated inland, Bennebroek, Hillegom, Lisse, Sassenheim, Warmond and Oegstgeest, was finished on 22 May 2008.
The largest flower panorama in the world, measuring 20 metres in diameter 63 metres in length and 4 metres in height, is now a reality.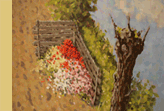 Because every artist paints with a style and touch that is uniquely their own, I have felt that, for reasons of uniformity, it would benefit the Panorama if it bears my imprint only, which is why I had chosen to complete the task myself.