Progress on the Panorama
The screen-filling Panorama visible on the page with the main menu covers the Panorama up to and including 2003. On this page you can view the additions in 2007.
Work done in the spring of 2007:
This spring, the work focussed on these canvasses: starting at the outhouse belonging to Schoonewegen farmhouse, the ruins of Teylingen, the stone bulbshed and part of the small flowerbeds under Nieuw Alkemade farmhouse.

Some things need adding here and there.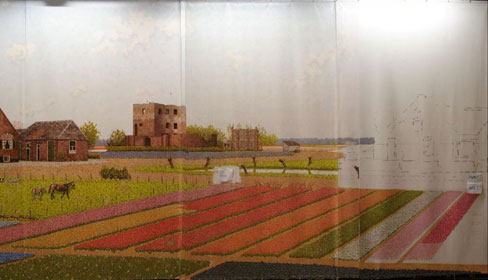 Work done from Spring 2007 till end of December 2007:
The group of persons below the stone bulb shed next to the ruins of Teylingen and the canvasses: Nieuw Alkemade farmhouse and a part of the canvas Warmond with the stork nest, the Tolhuis (Customs House), the Oude Toren (Old Tower) and the Theekoepeltje (Tea Cupola).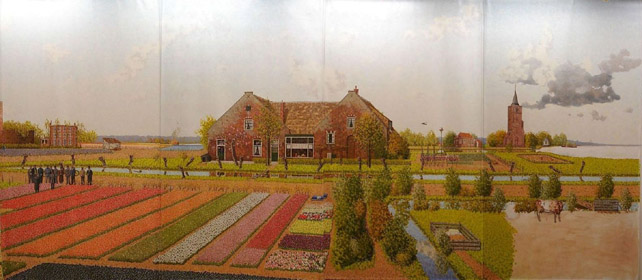 Anecdotes
• Saucy women
A bevy of giggling and lively women, in their thirties, and on a day out, approach me and try to draw me out. When I give them quick-witted replies, the cheekiest of them asks 'Are you married?' I reply 'Yes, very happily, and have been for over forty years.' She says 'Pity, because were looking for a bloke for a friend of ours, who's a widow'. Her friend makes a 'telescope' with her hand and looks at me, saying 'You are much better looking like that!' A bit later on, she comes up to me and says 'What a magnificent Panorama!' I reply 'Would that be without a telescope too?' She laughs. They leave a little later: 'We'll come and visit again soon!'
• Hugs and kisses
EA mature lady comes up to me and says: 'Let me give you a hug.' She wraps her arms around me, presses me to her chest and kisses me with tears in her eyes. 'You are the first man I've kissed since my husband died! I've got goose bumps, because I love your Panorama so much. This morning I was feeling a bit down and my children came round to pick up and drive me over here. I didnt really feel like it, but Im so glad I came!'
Then she asks: 'Does your back hurt?' 'Yes' 'Turn round and let the energy flow from my hands.' She puts her hand on my back. Her children confirm that she has healing hands. 'Mind my words, your back will hurt less soon.' She keeps holding me, but not in an annoying kind of way. She is deeply moved.
• "Remember me?" (1)
A lady looks at me expectantly: 'Do you remember me?' 'No, I'm sorry'. She says 'I was here the very first year'.
(I've been working on the painting for eleven years now and half a million people have come to see it!)
• "Remember me?" (2)
EA visitor asks: 'Do you remember me?' 'I know your face,' I reply, 'but I cant put a name to it.'
'Dr. J. de Bruijne!' In a flash, I see my father, on the floor of his studio, taking his last breaths and Dr. de Bruijne arriving just a little too late, only in time to certify his death. Incidentally, I was always very glad that my father died in his studio. He would have wanted it that way!
• Present
Pieter de Zwarts family, brother of Willem de Zwart, a painter of The Hague School, are visiting again, and they have brought me another present. I am allowed to choose something from a pile of Pieters work, and they give me an etching of a horse and a drawing of a cow. It is so sweet of these people to treat me so kindly!
Special encounters
• Book 'Ziekzoekers' (Diseased bulbs seekers)
In April, Anne-Gine Goemans published her first novel "Ziekzoekers", a novel situated in the Dutch Flower Bulb District; its main character is called Roelof Zeevoet.
A quote by Anne-Gine: "Roelof wants to modernise the company, he hates the old-fashioned style of the local Flower Pageant, and remodels it; he changes the packaging and commissions a Panorama of the Dutch Flower Bulb District to counteract the selling of bulb-growing land to property developers. I didn't make that up, this enormous painting really exists: it's Van den Ende's Panorama."
The photograph shows Anne-Gine with Leo and a ziekzoeker's parasol."
A ziekzoeker looks for and removes diseased bulbs. He does this using an umbrella to create some shade, so that the diseased bulbs are easier to spot.
• Finnish TV
Last year it was the Australian TV that paid me a visit. This year, the Finnish TV channel 'Finnish Broadcasting Company YLE 1' came around for an interested look.
• Former minister Dekker
Mrs. Dekker shows that one doesn't need to be a minister of 'Housing, Spatial Planning and the Environment' to be able to enjoy my Panorama!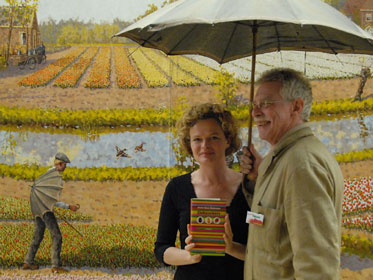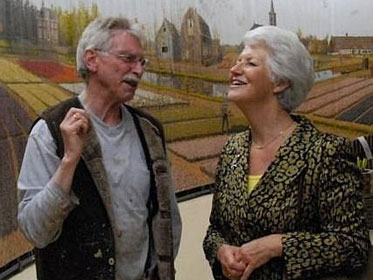 Contribution by visitor
• Jogging priest
When I arrived home, there was a letter waiting for me. After visiting my Panorama, a married couple wrote and told me that they have a very sporty son, a parish priest, who often goes running, and wouldnt it be a good idea to include a priest, jogging and dressed in sweats, running past the bulb fields. However, I think Ill pass on that one: I would imagine that in the fifties - the theme of my Panorama - they would have locked him up immediately and thrown away the key!
Special event
To celebrate the 125 anniversary of the Panorama Mesdag in The Hague, an exhibition called The World Around was held from 4 August to 26 November 2006.
The exhibition displayed a selection of panoramas from all corners of the globe, including the Van den Ende Panorama.
This exhibition was accompanied by the publication of the book Het Fenomeen Panorama/The Panorama Phenomenon, published by Uitgeverij P/F Kunstbeeld, Panorama Mesdag and the International Panorama Council.