Progress on the Panorama
The screen-filling Panorama visible on the page with the main menu covers the Panorama up to and including 2003. On this page you can view the additions in 2006.
Work done during the season of 2006:
Canvasses painted this spring: starting from the right of the house next to 't Huys Dever up to, and including, Schoonewegen farmhouse. Next, I made a charcoal drawing of the outhouse belonging to Schoonewegen farmhouse, the ruins of Teylingen, the stone bulbshed and part of Nieuw Alkemade farmhouse. Then using burnt umber, I added the details, excepting Nieuw Alkemade farmhouse.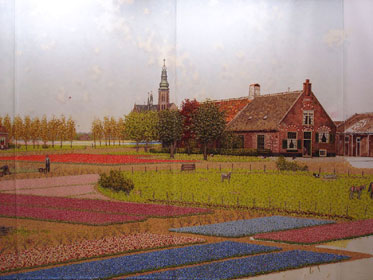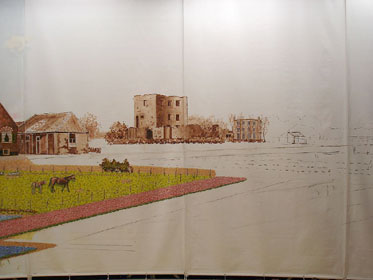 Anecdotes
• Painter
I'm sitting down to paint with my arm resting on a stick with a linen ball on it, which is leaning against the canvas. I can paint more accurately and in addition it relieves the strain on my arm. Two ladies settle themselves just behind me and start to discuss the stick. I thought that one of the remarks was quite funny. One of them says to the other: Painters use those too, you know. Strange, I was always under the assumption that I was a painter too.
• The star of the show
An excited lady, pointing at a house on the Veenenburgerlaan, where a woman leans from a window, shaking out a sheet, cries: you've painted me, havent you, that's me with the sheet. Without waiting for my reply, she walks over to her husband and says: He's painted me.
• 'Copycat'
At the office, a letter from a visitor arrives, containing best wishes and a drawing he did of me while I was working on the horse. It's so kind!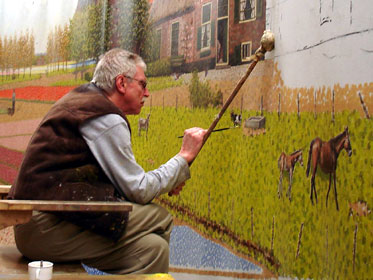 Special encounters
• Provincial Council of Zuid-Holland
Mr. J. Franssen, the Royal Commissioner for Zuid-Holland, said last year that he would suggest a visit to my Panorama for the Provincial Council. The reason for this was that I had mentioned that no one from the Provincial Council had visited my Panorama yet.
He has kept his word.
• Australian TV
Seven Network (Operations) Limited, Pyrmont, NSW, Australia, TV is filming various takes, and I have to exchange my position on the ground for a position on my raised chair.
• Bastiaan Ragas
Bastiaan and Tooske Ragas and Lisses municipal council have been invited because, in the Panorama, Lisse has been completed and because Bastiaan used to live in Lisse.
I hand a brush with some paint on it to Bastiaan and show him how to paint the wire between the stakes around the small horse meadow. He does it well: he's got talent.
They're a lovely couple!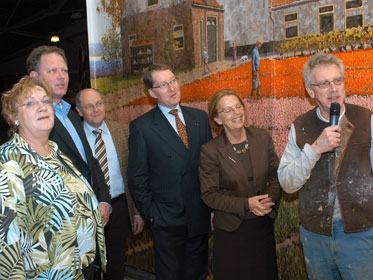 Contributions by visitors
• Haamzelen (straps)
A visitor brings me some haamzelen (straps), asking me to include them in the Panorama. Haamzelen are slung around the neck and the strings on them are wound round the handles of the berrie (handbarrow) used for transporting reeds and such.
• Different windows
I had received an e-mail saying that a side-window of Schoonewegen farmhouse looks different to my depiction of it on the Panoramas underpainting. I make my way over there on my day off and take some pictures, because it has emerged that the farmhouse has been restored by the Netherlands Department for Conservation, and now features lattice windows. The next morning I decide to include these on my Panorama as they are prettier by far.
• 'Stringman'
There's a stringman come to visit: There's no string attached to the kite. I've already heard this comment before and I've done nothing about it because the string would be out of proportion. However, Im worried that I'll be hearing this remark all the time, so I quickly add the string. The visitor returns a little later: One of those boys fishing rods doesn't have a line. He's right again and I quickly fix this too. I wait for his comments on the third string, but I don't see him around any more.
• Mekkie
Mekkie, the miniature goat, has been added to the canvas in front of Schoonewegen farmhouse, at the request of the son of one of our volunteers. It was a very sweet natured and intelligent little goat that died of homesickness while they were on holiday. The son walks in and suddenly sees his darling in the picture. He walks away again, greatly agitated. Afterwards, I hear that he had shed a tear or two in private.
• Kite
The requests to include a little boy flying a kite and Lisse's tiny station in the Panorama have been honoured.
• Nails
A member of Panorama Tuliplands staff reminds me that I have forgotten two nails on the signboard for H. de Graaff & Zn. He's right and I paint them in.